When your dog is scooting across the floor, it usually means that something isn't right with their rear end. Scoot Bars contain three sources of fiber, including pumpkin and larch tree extract to help relieve discomfort or irritation that leads to scooting. These delicious natural duck-flavored chews support healthy anal gland function and fecal volume while being gentle on your pupper's digestive system.
Scoot Bars are recommended for:
Healthy anal gland function
Fecal volume
Digestive function
Immune health
Healthy bacterial balance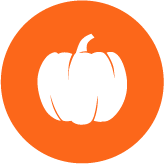 Great source of dietary fiber, and rich in Vitamin A, zinc, iron and potassium.
Ingredients
Product Facts:
Active Ingredients Per 1 Bar (11.8 g):
Proprietary Pumpkin Blend 2800 mg
(larch tree extract, digestion resistant maltodextrin and
pumpkin powder)
Inactive Ingredients: brewers yeast, canola oil, citric acid, glycerin, ground oat groats,
ground rye groats, mixed tocopherols, natural duck flavor, oat meal, propionic acid,
rosemary extract, silicon dioxide, sorbic acid, soy lecithin, vegetable oil.
Feeding Directions
Directions for Use: Give 1 chewable bar per 30 lbs daily.
Reviews represent the opinions of the authors and have not been modified in any way. They have not been reviewed by the FDA and are not intended to diagnose, treat, cure, or prevent any disease. We reserve the right to remove any review that claims or implies a product can diagnose, treat, cure or prevent any disease or makes similar unapproved disease claims.